New PRESTO Devices
We've installed new PRESTO payment devices across the Greater Toronto and Hamilton Area. With our new devices, your online loads become available for use 8 times faster! Funds will now be available for you to use within 4 to 7 hours after completing the transaction online.
Can't wait 4 to 7 hours? You can instantly load your card using the PRESTO App or in person using any PRESTO Fare Vending Machine.
The devices have a new look, including larger screens. To prepare for more payment options coming, they're designed to process one card at a time, so make sure you're tapping only your PRESTO card against the reader (not your entire wallet filled with cards) to pay your fare.
Bus Devices
The new bus devices will replace our older devices on select buses at GO Transit and across the 905 transit agencies – Brampton Transit, Burlington Transit, Durham Region Transit, Hamilton Street Railway, MiWay, Oakville Transit and York Region Transit.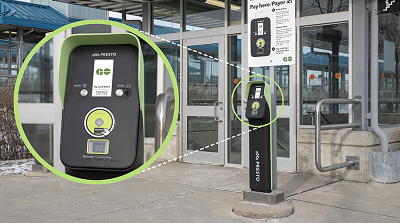 Station Devices
These new devices have been installed at GO, UP Express and York Region Transit stations.
GO customers can press the "mode" button to use a few different features:
Press 1 time and tap to override a default trip
Press 2 times and tap to reverse a fare payment
Press 3 times, tap and hold your card to check your balance
UP Express customers can press the "mode" button to reverse a tap or check the balance on their card.
YRT customers can press the "mode" button to the left of the screen 1 time to check the balance on their card.
Enjoy even more discounts.